Street Movies! in Strawberry Mansion at Hatfield House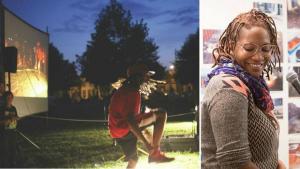 Thursday, August 23 at 7:45 PM - 9:30 PM
Location(s):
Location: Hatfield House Historic House, N 33rd Street
Rain Location: Hatfield House Historic House, N 33rd Street
With Special Guest Opening Performer: LYRISPECT

Hosted by: Stephanie Renée

We invite you to join us for a night of free independent short films from local and international filmmakers! It's a fun evening for our Philadelphia neighborhoods! 

Each screening is hosted by a community organization and followed by a moderated discussion about the topics raised in the films. It's a great way to see films, talk about community issues and meet your neighbors.

Performances start at 8pm!

Sponsored by PECO
FILMS
Dirt dir. Darius Clark Monroe (USA, 2016, Short, Drama, Mystery, 6:00 min)
Some things must die to live.
Game  dir. Jeannie Donohoe (USA, 2017, Narrative, 15:00 min)
A new kid in town tests the limits at the high school basketball tryouts.
Jonah dir: Andrew Michael Ellis, Ernest Baker II (USA, 2016, Documentary, 6:00 min)
A subway worker dances through a monochrome urban train station, juxtaposed with vivid sea and sand dune landscapes. The archival voice-over of a former African American slave, provides an engaging context to his movement.
Temple University and Displacement in North Philadelphia
POPPYN Production (USA, 2017, Documentary, 6:50 min)
Did you know Temple University is planning to build a 35,000 seat stadium in the heart of North Philadelphia? In this segment, we explore the potential impact of this project and the response of community members and organizers.
Black 14  dir. Darius Clark Monroe (USA, 2018, Documentary, 14:00 min)
Black 14 is an archival social study examining white pathology and cognitive dissonance via media coverage of a 1969 racial protest at the University of Wyoming.