Equipment Center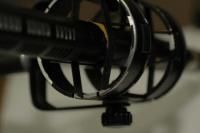 COVID-19 Update
In an effort to limit the spread of COVID-19 in our community, we are following strict sanitizing protocols for all equipment rentals. Before considering taking out Scribe equipment, please review our COVID-19 Equipment Protocol. At the time of taking out equipment, you will be required to sign an Equipment Rental Form stating that you have acknowledged the protocols in place and will adhere to them in the field.
Equipment Rentals
Although primarily for use by workshop and other program participants, Scribe provides limited access to reserve and loan out video, film, audio and auxiliary production equipment, as well as post-production equipment (dubbing and editing) to independent media artists. We require proof of familiarity with equipment before it may be used by non-workshop users.
We are not a commercial rental house and we offer reduced rates for projects intended to support community users.
Production Equipment
Four Sony HD Camcorders; miniDV cameras; lighting kits (LED, softlight, Spiderlite, Lowell Tota and Omni, DP); lavalier microphones (6 wired, 2 wireless); five shotgun microphones; Zoom and Tascam audio recorders; assorted cables; boom poles; seven tripods; batteries, and AC auxiliary equipment; two 16mm cameras (Bolex, CP-16) and two Super8 cameras.
Post-Production Equipment
Seven iMac editing stations with Adobe CC applications (Premiere, After Effects, Encoder, Photoshop, Audition); flatbed and document scanners; One Steenbeck Film Editing Machine; one 16mm rewind table; one VHS edit station and VHS / ¾-inch dubbing station; one screening/transfer/dubbing station for mini DV, DVCAM, VHS, ¾", Hi8; one 1 ¼" audio playback station.
Exhibition Equipment
One video projector; three16mm projectors; one Super 8 projector; and one audio amplifier/speakers
Policies And Procedures:
You must request equipment needs in advance of your rental. Call Scribe at (215) 222-4201 to make an inquiry and reserve equipment.
Renter Responsibility
You will be held fully responsible for any equipment that you borrow or rent from Scribe. If any losses or damages occur to borrowed or rented equipment, you agree to pay Scribe the costs for repair or the replacement cost if the equipment is lost or beyond repair.
Contact Person
Dan Papa, Technical Coordinator
Email: dan@scribe.org
Hours Of Operation
Our office hours are Monday–Friday, 11:00am to 7:00pm.
Equipment Check-Out
Monday–Friday, 12:00pm to 3:00pm, 4:00pm to 6:00pm
Equipment Check-In
Monday–Friday, 12:00pm to 3:00pm, 4:00pm to 6:00pm
Download the Equipment Rental Packet here.