Street Movies! at Malcolm X Park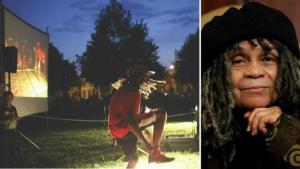 Saturday, August 18 at 7:45 PM - 9:30 PM
Location(s):
Location: Malcom X Park, 5100 Pine Street
Rain Location: Philadelphia Student Union, 501 S 52nd St
With Special Guest Opening Performer: SONIA SANCHEZ

Host: Kennedy Allen of the Black Tribbles

We invite you to join us for a night of free independent short films from local and international filmmakers! It's a fun evening for our Philadelphia neighborhoods! 

Each screening is hosted by a community organization and followed by a moderated discussion about the topics raised in the films. It's a great way to see films, talk about community issues and meet your neighbors.

Performances start at 8pm!

Sponsored by PECO
FILMS
Adija dir. Apollonia Thomaier (USA, 2017, Narrative, 14:00 min)
A young girl in the Bronx finds escape from an unhappy family life through her graffiti art.
Black Girl Magic
POPPYN Production (USA, 2018, Spoke Word, 2:50 min)
This spoken word piece was written, performed and edited by Safiyyah, a Senior Producer at POPPYN.
Decided Fate Dir. Visakha Bun (USA, 2017, Spoken Word, 4:37)
This narrative piece explores the experiences of a Cambodian immigrant in the United States.
Jonah dir: Andrew Michael Ellis, Ernest Baker II (USA, 2016, Documentary, 6:00 min)
A subway worker dances through a monochrome urban train station, juxtaposed with vivid sea and sand dune landscapes. The archival voice-over of a former African American slave, provides an engaging context to his movement.
Vhils - debris, Macau 2017 dir. Jose Pando Lucas (USA, 2016, Documentary, Short, Action 12:00 min)
A visual journey with the art of street artist Vhils
Witness dir. Marie Alarcon (USA, 2017, Experimental, 36:00 min)
An experimental documentary about Bartram Village and Gardens.