Body of Work - Tina Morton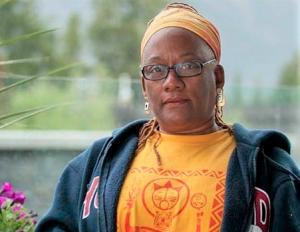 Wednesday, September 18, Thursday, September 19, & Friday, September 20, 7:00 PM - 9:00 PM
Location(s):
Scribe Video Center
3908 Lancaster Avenue
Philadelphia, PA 19104
Tina Morton is a media activist, documentarian, and an Associate Professor at Howard University. Her work began when she took classes at Scribe Video Center over two decades ago. Her first two films, The Dance in Aunt Ida Lee and Severed Souls are illustrative of her commitment to exploring and documenting family and oral histories in communities whose stories are often overlooked. Morton shares her talents by returning to work with Scribe to facilitate production on several community history documentaries. This sensitivity to finding and telling personal narratives is a common thread found throughout all of her work. 
Morton is a recipient of a Pew Fellowship (2010), a Leeway Transformation Award (2006) and two Art and Change Grants (2005, 2006). Morton's other awards include receiving a Leighton Artists' Colony residency at the Banff Centre in Calgary, Canada and an artist residency at the 18th Street Arts Center in Santa Monica, CA. Her feature doc, Belly of the Basin, produced with Roxana Walker-Canton, garnered the best documentary award at the 2008 Hollywood Black Film Festival. In 2016, Morton was commissioned to complete a work for Scribe Video Center's Great Migration Project. 
Wednesday, September 18, 7:00 PM – Philadelphia History
The Dance in Aunt Ida Lee (USA, 1994, 14 min) - The video artist presents a charming and disarming portrait of her great Aunt Ida, age 103, who shares memories of her days as a performer and her love of life, music, dance and God.
When We Came Up Here (USA, 2016, 28 min) – This short documentary chronicles the vital role and impact the Philadelphia Tribune played in imparting information to folks who were part of the Great Migration from the South, and particularly to Philadelphia.
Severed Souls (USA, 1997, 30 min)  - Severed Souls is a 13-year personal journey to chronicle the community memory of the execution of Corrine Sykes, a 20-year-old North Philadelphia resident wrongly executed for murder and the first African American woman to be legally executed in PA.  
Thursday, September 19, 7:00 PM - PRECIOUS PLACES Salutes Tina Morton
Hayti: An Oasis (USA, 2010, 11 min) Precious Places - In the community of Hayti, Pennsylvania, outside Coatesville, many families have been neighbors for over one hundred years. Unlike many other African American settlements given the same name following the Civil War, this neighborhood and its community institutions—namely the Passtown Baptist Church—have flourished since the 1880s. 
Neighbors and Nature in Harmony (USA, 2009, 10 min) Precious Places -  Tucked away in Northeast Philadelphia, Longford Street is the site of the city's first planned integrated suburban development. Greenbelt Knoll, as the neighborhood became known, was the project of developer and civil rights proponent Morris Milgrim in the 1950s. 
The Taking of South Central...Philadelphia – (USA, 2005, 10 min) Precious Places - Once "South Philly," the area along South Street is now "Center City." As longtime residents around the 2100 block can attest, gentrification has besieged this close-knit neighborhood that is regionally famous for Odunde, an annual African street festival. 
Build Your Own Door – Atkinson Memorial Hospital in Coatesville (USA, 2018, 15 min) Precious Places - In 1936, despite the ravages of segregation in Coatesville, PA., Dr. Whittier Cinclair Atkinson faced extraordinary challenges to build and successfully operate his own hospital.
Friday, September 20, 7:00 PM - Tragedy, Journey and Healing
A Promise Fulfilled (USA, 2004, 16 min) - This short documents a Vietnam veteran who made a promise to his fallen comrade to journey across country in a horse-drawn covered wagon in the tradition of the Buffalo Soldiers. 
If You Call Them (USA, 2001, 7 min) - Through an evocative use of sound, image, and movement guided by a sure hand in manipulating her medium, Morton evokes the longitudinal power of past as present-future. 
Belly of the Basin – (USA, 2008, 57 min) – Co-produced and co-directed with Roxana Walker-Canton, Belly of the Basin, features the people of New Orleans' telling their own stories of survival and struggle.