Storyville - How We Move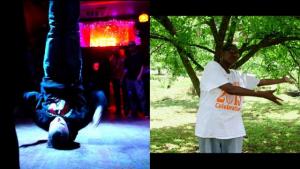 Friday, February 17 at 7:00 PM (Reception at 6:30 PM)
Location(s):
Scribe Video Center
4035 Walnut Street
Philadelphia, PA 19104
Films on Philadelphia hip-hop and experimental theater groups by Aidan Un 
Second Sundae (2016, 2 min)
Philly's freshest and illest b-boys and b-girls, lockers, poppers, house dancers and movers meet at Silk City on Second Sundae, every Second Sundae, when it's Second Sundae.
The Street Pearls Mixtape (2016, 14 min)
"One thing I've always been fascinated with by hip-hop is sampling [...] You see something you like, I'm gonna take a little piece of that, whether it's conceptual, whether it's visual, and I'm going to incorporate it and flip it to make it my thing... to make it a hip-hop thing" - Mark Wong, aka Bboy Metal
Bboy Metal is a remix. This documentary peeps into his sampling techniques as he draws inspiration from the many places he's from to create art and identity. 
Bareteeth (2013, 2 min) 
Bareteeth is a multi-disciplinary and experimental dance theater collective that pushes on pre-prescribed boundaries concerning identity, survival, and transcendence. As a multi-racial, predominantly women, and queer identified group, They are balancing the power of whose stories are told on stage and how OUR bodies and voices choose to amplify them. 
No Promised Land (2016, 20 min) co-director BARETEETH
In a Philadelphia outside of time, an intergenerational group collects their tactics for liberation in this somatic and experimental documentary.
Preceded by:
A Shift in Words (2014, 13 min), directed by Jonathon Alexander, Taj Bland and Tyquil Griffin through the 2014 Scribe's Documentary History Project for Youth, explores the ways in which hip hop has evolved through the 1980's, '90s and today, particularly through the  advent  of social media
Aidan Un is a French-Korean-American filmmaker based in West Philadelphia. He enjoys encounters and collaborations. He experiences film as a way of discovering worlds around us and within us and believes in its power to create new ways of seeing. 
Cost:
Free ($5 Suggested Donation)