Special Screening & Discussion - Dr. Debra Boyd on Moustapha Alassane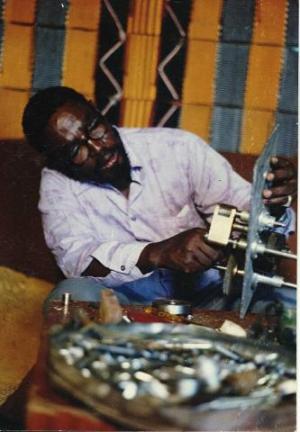 Friday, September 15. 4:30 PM
Location(s):
Scribe Video Center
4035 Walnut Street
Philadelphia, PA 19104
Event Type:
Special Presentations
Screening
Screening and Discussion with Dr. Debra Boyd featuring her film:
Animation et Création: L'Univers du Cinéma de Moustapha Alassane (Animation and Creation: the Cinema of Moustapha Alassane)
dir. Debra Boyd (19 min. 2002 Niger/USA) 
In 1996, Dr. Boyd began producing Genius of the Sahel, a series of short documentary films about extraordinary African personalities who live in the Sahel. Featuring clips from the directors' oeuvre, Animation et Création is an exploration of the evolution of Alassane's cinematography in his own words.
Other film credits include:
Jigeen bu jambar: Tata Annette! Championne des Femmes et Militante Culturelle  
(Woman of Steel:  Tata Annette! Champion of Women and Cultural Militant),
18mn06, French, 2008
Martinique: Pays Natal du Héros de la Négritude
(Martinique: Birthplace of the heroes of Negritude / Aimé Césaire)
Photodocumentary, 6mn  2009
Ousmane Sembène, Doyen des Cinéastes Africains
(Ousmane Sembene, Dean of the African Filmmakers)
Photodocumentary,  5mn 2008
Dr. Boyd currently serves as Associate Professor of French and Francophone Literatures at North Carolina Central University in Durham, NC. Dr. Boyd is the co-author of a book, Camel Tracks: Critical Perspectives on Sahelian Literatures, and numerous articles on the literatures of the Sahel region of Africa with a focus on the literature and culture of Niger.   She is the Director of Cross/Culture Encounters Educational Consultants, Inc. 
Dr. Debra Boyd's presentation at Scribe Video Center is made possible by support from the University of Pennsylvania's Program in Cinema Studies.