New Works Produced Through Scribe's 14-Week Workshop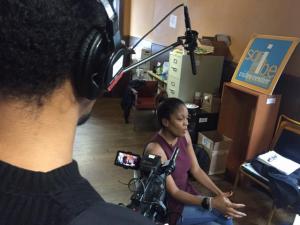 Friday, September 29, 7:00 PM (Reception at 6:30 PM)
Location(s):
The Institute of Contemporary Art
118 S 36th St.
Philadelphia, PA 19104
New Works Produced Through Scribe's 14-Week Workshop
Rebuilding Camden High: The Castle on the Hill by Kenise Hunter
Students in Camden need a new school to meet 21st century needs, but the community is reluctant to tear down the historic building that has stood tall for generations.
The College Process by Camron Dozier
Two college students describe the constant stress and anxiety from their different perspectives concerning workload and other issues.
half life by Eric Shapiro
A young white Jewish man feels disconnected from his roots and hopes to open painful conversations with his Dad who refused to raise him in the tradition of Jewish religion or culture.
Images of Erica by Madeline Taterka
Ten years after her mother's death, a 26-year-old woman meets with friends and family to uncover new insight into her mother's life and perspective. 
The Cover of My Soul by Denise Allen
Denise Allen traces her personal journey of self-acceptance and spiritual growth after losing all of her hair.
The Philadelphia Negro Revisited by Marva Sumlin 
118 years after W.E.B. Dubois' groundbreaking sociological study The Philadelphia Negro, African-Americans currently living in Philadelphia still face many of the same economic, social, and political issues
The Peacemaker and the Judge by Jamil Gordon
This personal narrative chronicles the journey from depression to understanding, as a client wrestles with lingering trauma from a childhood laced with pain from the lasting impact of the 9/11 attacks.
What's Your Name? by Nware Rahsaan Burge
Documentary about using DNA science and research to offer African-Americans a viable alternative to names that were forced upon them by the European slave traders in the Americas.
Cost:
FREE (Suggested donation $5)