95 and 6 to Go - Directed by Kimi Takesue (USA, 2016, 85 min)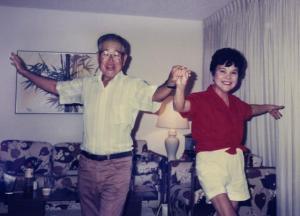 Wednesday, May 10, 7:00 PM
Location(s):
International House Philadelphia
3701 Chestnut Street
Philadelphia, PA 19104
Event Type:
Producers' Forum
Screening
$10, $7 Students/Seniors, $5 Scribe and IHP members       PURCHASE TICKETS HERE
In this affectionate portrait, Kimi Takesue finds an unlikely collaborator in Tom, her 90 year old widowed grand father in Hawai'i.Tom's memories become intertwined with the fictional screenplay his grand daughter is writing, revealing the fine line between life and art,rumination and imagination. Shot over six years, this meditation on absence and family expands the vernacular of the "homemovie" to consider how history is accumulated in the everyday.
Master Class with Kimi Takesue: From Raw Footage to an Unexpected Film on May 11, 7:00 PM at Scribe Video Center, 4035 Walnut Street. $20 General, $10 Scribe members . MORE INFO
Kimi Takesue received the John Simon Guggenheim Fellowship. Her films have screened extensively at festivals and museums, including Sundance, New Directors/ New Films,Locarno, Rotterdam, SXSW, the Walker Art Center, and the Museum of Modern Art.They have aired on PBS, the Independent Film Channel, and the Sundance Channel.Takesue, a graduate of Temple University's MFA program, is Associate Professorin the Department of Arts, Culture, and Media at Rutgers University.


This event was made possible in part by the generous support of the Leeway Foundation. 
Cost:
$10, $7 Students/Seniors, $5 Scribe and IHP members