Street Movies! at the Open Kitchen Sculpture Garden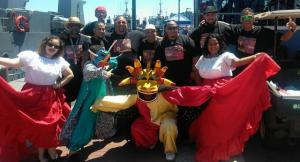 Friday, August 24 at 7:45 PM - 9:30 PM
Location(s):
Location: Open Kitchen Sculpture Garden, 2251 N Philip St
Rain Location: West Kensington Ministry, 2140 N Hancock St
With Special Guest Opening Performer: Los Bomberos De La Calle 

Host: David Acosta

We invite you to join us for a night of free independent short films from local and international filmmakers! It's a fun evening for our Philadelphia neighborhoods! 

Each screening is hosted by a community organization and followed by a moderated discussion about the topics raised in the films. It's a great way to see films, talk about community issues and meet your neighbors.

Performances start at 8pm!

Sponsored by PECO
FILMS
Free Like The Birds dir. Paola Mendoza (USA, 2016, Narrative, 10:00 min)
A young girl fights for her parents' immigration status.
Jonah dir: Andrew Michael Ellis, Ernest Baker II (USA, 2016, Documentary, 6:00 min)
A subway worker dances through a monochrome urban train station, juxtaposed with vivid sea and sand dune landscapes. The archival voice-over of a former African American slave, provides an engaging context to his movement.
Treintanera dir. Diego Londoño (USA, 2016, narrative, 9:00 min)
Through the persuasion of her Abuela, Valentina has her quince años party on her thirtieth birthday, only to have things go horribly wrong.