Street Movies! at Mifflin Square Park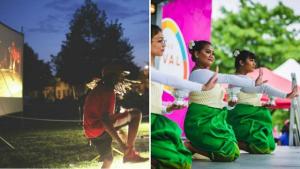 Wednesday, August 22 at 7:45 PM - 9:30 PM
Location(s):
Location: Mifflin Square Park, 6th and Ritner Street
Rain Location: United Communities Houston Center, 2029 S 8th Street
 
With Special Guest Opening Performer: Cambodian American Girls Empowering (CAGE) dance group

Host: Julia Lopez

We invite you to join us for a night of free independent short films from local and international filmmakers! It's a fun evening for our Philadelphia neighborhoods! 

This is a special event where we'll be showing 

ALL CHILDREN'S FILMS!

Each screening is hosted by a community organization and followed by a moderated discussion about the topics raised in the films. It's a great way to see films, talk about community issues and meet your neighbors.

Performances start at 8pm!

Sponsored by PECO
FILMS
Frolic N' Mae dir. Danny Madden (USA, 2016, Action, 12:00 min)
Bored at a sleepover, Mae unleashes her imagination with doodles. But when the doodles come to life, she's got a knock down drag out fight on her hands.
The Old Man and The Pears  dir. Jing Sun (USA, 2018 Animation, Short, 5:00 min)
A weak and hungry old man begs for a pear from a fruit peddler, but the peddler refuses and rejects him. A little boy bravely steps forward and spends his last coin to buy a pear.
Adija dir. Apollonia Thomaier (USA, 2017, Narrative, 14:00 min)
A young girl in the Bronx finds escape from an unhappy family life through her graffiti art.
Welcome to My Life  dir. Elizabeth Ito (USA, 2015, Animation, Short, Drama, 9:00 min)
Welcome to My Life Watch this exclusive short about a day in the life of Douglas aka T-Kash, a monster trying to fit in at his high school.
Free Like The Birds dir. Paola Mendoza (USA, 2016, Narrative, 10:00 min)
A young girl fights for her parents' immigration status.
The Lions of Chinatown dir. Lawrence Chen (USA, 2018, Short, 5:00 min)
A young woman as she trains to become the lion head, a traditionally male dominated role in the forgotten art of Chinese lion dancing.