Special Exhibition & Screening Event - How to Tell a True Immigrant Story & Places of Power with Termite TV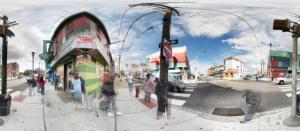 Friday, June 12, 2020, 6:00 PM — 9:00 PM
Location(s):
Scribe Video Center
3908 Lancaster Avenue
Philadelphia, PA 19104
How to Tell a True Immigrant Story (USA, 2019, 13 Min)
Termite TV's Aggie Ebrahimi Bazaz presents How to Tell a True Immigrant Story, a poetic metanarrative chorus produced in collaboration with members of a community in upstate NY as they respond to increased ICE activity and anti-immigrant sentiment after the 2016 presidential election. The film expands the understanding of experiences widely reduced to politically convenient constructs like "immigrant," while marshaling the 360º video sphere to interrogate the ways in which a documentary can operate. The film celebrates how community members strengthen identity, build bonds, and foster resilience within systems that foster isolation and othering.
Friday, June 12, 2020 — Saturday, June 27, 2020
Places of Power Exhibition 
Places of Power is an exhibition of multi-disciplinary media works created by the Philadelphia-based Termite TV collective in collaboration with the Village of Arts and Humanities. Created in collaboration with community residents, the exhibition features an immersive web and virtual reality project that invites viewers to experience a shifting North Philadelphia neighborhood. Highlighting the under-recognized sites of power that are located within overlooked neighborhoods, Termite TV's installation includes a collection of twenty years of photographs of community residents taken by Nandi and Khalid Muhammad who run a local penny candy store. This event will be the Philadelphia premiere of the Termite TV's VR documentary Places of Power.