Producers' Forum: Ruben Blades is Not My Name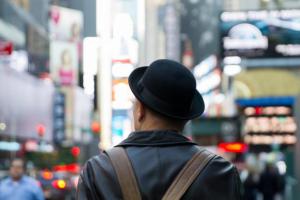 Wednesday, May 15, 7:00 PM
Location(s):
Lightbox Film Center
International House
3701 Chestnut Street
Philadelphia, PA 19104
Event Type:
Screening
Producers' Forum
RUBEN BLADES IS NOT MY NAME directed by Abner Benaim (Panama, 2018, 88 mins)
ABNER BENAIM IN PERSON
Latin American icon Ruben Blades was at the center of the New York salsa revolution in the 1970s. His socially-charged lyrics and explosive rhythms brought salsa music to an international audience. Blades has won 17 Grammys, acted in Hollywood, earned a law degree from Harvard, and even ran for President of his native Panama. Critically acclaimed director Abner Benaim takes us on a journey through Ruben's 50-year career, revealing that Ruben still has both musical and political ambitions. Featuring Paul Simon, Sting, Junot Diaz, and Gilberto Santa Rosa.
Abner Benaim studied at the University of Pennsylvania and at Camera Obscura in Tel Aviv. In 2004, he founded an independent production company, Apertura Films, in Panama. His first feature, Chance was the first film to be theatrically released in Panama in 60 years. His feature documentary, Invasion, was Panama's first submission to the Academy Awards. Benaim's films have been selected at prestigious film festivals such as SXSW, IDFA, and HOTDOCS, and have won multiple awards as well as critical acclaim.
Preceded by My Discovery - Baba Crowder (USA, 2013, 10:50) produced by Kemi Jackson through Scribe's Documentary History Project for Youth Program. A glimpse into the life and legacy of Master Drummer Baba Crowder (1930-2012).
THIS SCREENING IS CO-PRESENTED BY THE PHILADELPHIA LATINO FILM FESTIVAL AND THE UNIVERSITY OF PENNSYLVANIA.