Places of Power Exhibition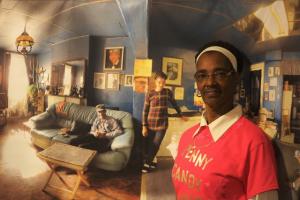 Friday, June 12, 2020 — Saturday, June 27, 2020
Location(s):
Scribe Video Center
3908 Lancaster Avenue
Philadelphia, PA 19104
Event Type:
Special Presentations
Screening
Places of Power is an exhibition of multi-disciplinary media works created by the Philadelphia-based Termite TV collective in collaboration with the Village of Arts and Humanities. Created in collaboration with community residents, the exhibition features an immersive web and virtual reality project that invites viewers to experience a shifting North Philadelphia neighborhood. Highlighting the under-recognized sites of power that are located within overlooked neighborhoods, Termite TV's installation includes a collection of twenty years of photographs of community residents taken by Nandi and Khalid Muhammad who run a local penny candy store. This event will be the Philadelphia premiere of the Termite TV's VR documentary Places of Power.