New Works Produced Through Scribe's 14-Week Workshop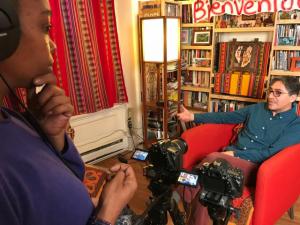 Location(s):
Scribe Video Center
3908 Lancaster Avenue
Philadelphia, PA 19104
The 14-Week Workshop covers all aspects of film and video production and supports participants in the completion of short projects. Many of this year's participants are also members of Scribe's Film Scholars Program. Funded by the Academy of Motion Picture Arts and Sciences, the program consists of a series of short-form documentary video-making training courses designed to support emerging filmmakers in completing new work.  The 14 Week -Workshop and the Film Scholars Program are supported by the National Endowment of the Arts.
In Search of Lost Time: Alzheimer's and Dementia's Impact on Communities of Color (15min) by Renee Chenault Fattah
The compelling and hopeful story of people with alzheimer's, caregivers, doctors, researchers, and the community at large, in the urgent fight against Alzheimer's and Dementia which pose a global health and economic threat that disproportionately impacts communities of color. 
Finding Elijah  (15min) by Yolonda Johnson-Young
Told from a mother's perspective, Finding Elijah follows a young man's journey from home; into mental illness, to homelessness, and ultimately to suicide. How a search for answers leads a mother to action.  
Stevie Robot (15min) by Phil Asbury
After her mother is in an accident at the same time as Stevie Wonder, 11-year old Olivia is convinced that her mother's life is directly connected to the life of the famous musician. To save her mother Olivia has to rely on her ingenuity, some broken appliances, and a little bit of magic.
Brilliant Black Suns, The Light the Village Requires (12 min) by Jamil Gordon
Filmmaker Jamil Samadhi's journey to heal intergenerational trauma by forgiving his blood brother after decades of emotional and physical abuse. This film challenges audiences to recognize in their own lives how "hurt people hurt people", blocking the expression of essential god given light in ways we rarely examine.  
Twin Tongues: Learning English in América (1hr) by Iliana Pagán-Teitelbaum
In an English-dominant world, can a pair of Puerto Rican-Peruvian twins learn English without losing their Spanish?
(Excerpt) The Age of Aquarius, Five Days in Philadelphia by Gary Smalls
(Trailer) Racing through the Gray Space by Kelly Kirby
The concept of race is a human made idea but race is a reality and a big problem in the United States. This film features intimate conversations with people who don't necessarily fit into the "boxes" initially created by humans about race, yet they still live racism in their every day life experiences.