Master Class with Stephen Maing: When Stories Resist Being Told: Cinematic Investigative Filmmaking - Please note 6:00 pm start time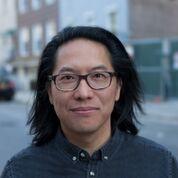 Wednesday, February 13, 2019, 6:00 PM
Location(s):
Scribe Video Center
3908 Lancaster Avenue
Philadelphia, PA 19104
Stephen Maing, an Emmy-nominated documentary filmmaker has produced and directed numerous films, including High Tech, Low, Life, The Surrender, and Crime + Punishment. Throughout his career, he has been perfecting a kind of immersive human-scale storytelling and visual journalism. In this workshop, we will discuss why it's not enough to just ask the questions, but to provide new and meaningful visualizations that compel a more transformative experience. Dispensing with straight formalism he will discuss how an embrace of other genres of fiction and non-fiction storytelling can shape a film's unique balance between story, context and experience. Using his films as examples, Stephen will discuss how ethics and the true messiness of long-form practice breathe life into his filmmaking and quest to create a new genre of cinematic investigative filmmaking.