Documenting Stories of 'Home' Using VR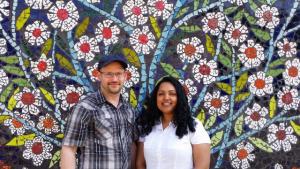 2 sessions — Saturdays, June 13 and 20, 2020, 1:00 PM – 5:00 PM
Location(s):
Scribe Video Center
3908 Lancaster Avenue
Philadelphia, PA 19104
Event Type:
Workshop
Special Presentations
Instructor:
Anula Shetty and Michael Kuetemeyer
Photo by Lillian Dunn, courtesy of Village of Arts and Humanities.
Over the course of two weekends, learn how to effectively use Virtual Reality and Augmented Reality devices and techniques to create your own project on the topic of 'Home'. Michael Kuetemeyer & Anula Shetty of Termite TV Collective will discuss their process of working with community groups to develop issue oriented, immersive VR and AR projects that celebrate local histories and address local challenges. What do these new media technologies have to offer? How can artists and audiences be educated to engage in the unique aesthetics of emerging media forms? The workshop will consist of one day of production and one day of editing and authoring.