Producers' Forum - Billy Woodberry with A Story From Africa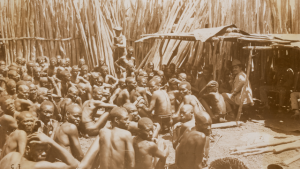 Saturday, March 14, 2020, 7:00 PM
Location(s):
Scribe Video Center
3908 Lancaster Avenue
Philadelphia, PA 19104
Event Type:
Screening
Producers' Forum
Billy Woodberry with A Story From Africa (Portugal, USA, 2018, 32 min)
A Story from Africa brings to life a photographic archive of the 1907 Portuguese occupation of territory in the south of Angola belonging to the Cuamato people. 
Billy Woodberry is a key figure in the Black independent filmmaker movement known as "the L.A. Rebellion." His film Bless Their Little Hearts received two awards at the Berlin Film Festival in 1984 and was placed on the National Film Registry in 2013.
A collaboration with the School of Arts and Sciences's African Film and Media Pedagogy Seminar at Penn.
Cost:
$10, $8 Students/Seniors, $5 Scribe Members