8 Week Video Production Workshop (AT CAPACITY / WAIT LIST ONLY)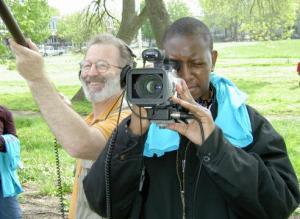 Saturdays, January 18, 25, February 1, 8, 15, 22, 29 and March 7 2020 from 12:00 pm - 2:00 pm; Mondays, January 20, 27, February 3, 10, 17, 24, March 2, 9 2020 from 7:00 pm - 9:00 pm, 27, 2020, 7:00PM - 9:00PM;
Location(s):
Scribe Video Center
3908 Lancaster Avenue
Philadelphia, PA 19104
This workshop has reached capacity! If you'd like to be added to the Wait List, you can send an email to inquiry@scribe.org.
This workshop covers all major aspects of scripting and shooting a short non-fiction film. Over the 8 weeks, participants will refine their idea and shoot it using Scribe's Sony FS5. The class includes instruction in scriptwriting, production planning, camera operation, basic lighting, and sound recording. Projects should be no longer than 5 minutes. We encourage documentary subjects that explore personal visions, creative expression and/or community life. Participants will work together as a crew on each other's projects. Participants must submit a brief written description of their proposed project idea and their motivation for taking the class before the start date. The workshop is limited to 8 participants.
 
Cost:
$250, $200 Scribe members