Storyville: Four Days in West Kingston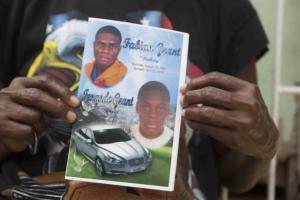 Friday, February 8, 2019, 7:00PM
Location(s):
Scribe Video Center
3908 Lancaster Avenue
Philadelphia, PA 19104
FOUR DAYS IN WEST KINGSTON (2018, 42 mins) directed by Deborah A. Thomas,
Deanne M. Bell, and Junior "Gabu" Wedderburn
This experimental documentary uses archival film and photographs, drone footage and contemporary hyper-realist film photography to explore the 2010 State of Emergency in West Kingston, Jamaica. In May of that year, the military and police entered Tivoli Gardens and surrounding communities by force in order to apprehend a "wanted" citizen. This action resulted in the deaths of at least 75 civilians. The film features community residents talking about what they experienced during the "incursion," and naming and memorializing loved ones they lost. It encourages viewers to think about how ordinary people negotiate the entanglements among nationalist governments, imperialist practices, and local articulations with illicit international trades.