Special Screening - Camden Love/Hate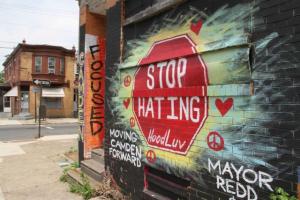 Monday, July 24, 2017 TIME: 7:00 PM - 9:00 PM
Location(s):
PFS Roxy Theater, 2023 Sansom Street, Philadelphia
Camden Love/Hate (USA, 2016, 75 min.)
Directed by Daniel Meirom and Ron Lipsky in collaboration with student filmmakers Shanell Nesmith, Tamysha Jackson, Shamiera Andersen, Kimel Hadden, Anthony Williams & Ja'far Mohammad
Six teenagers from Camden, New Jersey, document the story of their city from the glory days of the postwar boom to
today's violent and fraught reality. Using filmmaking skills gained at Camden Center for Youth Development, the teens express complex feelings about their home, considered one of the most dangerous cities in America. Through this lens, they become aware of hidden histories and a future that looks both hopeful and bleak.
THIS SCREENING IS PRESENTED IN PARTNERSHIP WITH THE PHILADELPHIA FILM SOCIETY