Preservation - Community Archive Workshop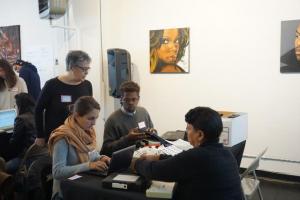 Saturday, April 29 from 11:30 AM – 5:30 PM (Bring your own brown bag lunch!)
Location(s):
Scribe Video Center
4035 Walnut Street
Philadelphia, PA 19104
Event Type:
Workshop
Master Classes
Special Presentations
Whether taping a local street protest or recording a block party or church event, documenting community history is only the beginning.  As years go by and tape formats change, countless productions are locked away on obsolete and deteriorating tapes.  The first step to access to understanding what a collection contains so that that the highest quality, most important, and most at-risk tapes can be preserved.  Join the workshop where experts and beginners come together to develop an archiving strategy for commuity collections.  Learn archiving skills and hear about how actions for preservation and access can be organized for your organizational or personal collection. To learn about the process, please see http://communityarchiving.org/past-workshops/2015-newyork/
Contact Hye-Jung Park at hjpark@scribe.org to register. 
Mona Jimenez started transferring obsolete videotapes in the late 1980s and has been an advocate and organizer for the preservation of independent media and media art ever since. She is Associate Arts Professor/Associate Director in NYU's Moving Image Archiving and Preservation Program, where she teaches the preservation of video and digital works. She is co-editor with Sherry Miller Hocking and Kathy High of The Emergence of Video Processing Tools: Television Becoming Unglued, that documents collaborations between artists and technologists to create custom tools for media art (for the book, visit:University Chicago press). Since 2009 she has been experimenting with participatory models of media/film archiving locally and through Community Archiving Workshops organized by the Independent Media Committee of the Association of Moving Image Archivists. She is the founder of Audiovisual Preservation Exchange (APEX), a project to network audiovisual archivists, educators and students internationally through shared work on collections. Website: http://cinema.tisch.nyu.edu/object/Jimenezm.html