Premiere Screening - New Works from the 2017 Documentary History Project for Youth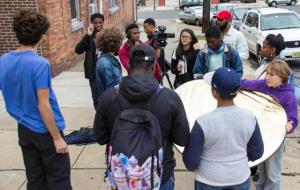 Friday, November 17, 2017. 6:30 PM
Location(s):
McNeil Science and Technology Center Building
University of the Sciences
731 S. 43rd Street
Philadelphia, PA 19104
Led by instructors, NaOme Richardson and Derrick Woodyard, participants in the 2017 Documentary History Program for Youth after school and summertime production program tackled the concept of migration. Their short films investigate the idea of migration by examining its effect on such diverse topics as fashion, language, technology, music, theater and religious beliefs.
Features & Filmmakers:
Fashion Through the Eye by Madison Richardson & Tezita Marquis 
Now I Can Speak by Abia Noumbissi & Amirah Knox
Phone by Amral Farnum & Cristian Vasquez 
Move to the Beat by Kyle Ramberan & Eric Segal
Life on the Stage by Zahli Bhayroo & Elijah Davis 
Soul Searchers by Avery Broughton
 
The Documentary History Project for Youth is made possible by support from the National Endowment for the Arts, Lincoln Financial Foundation, Rosenlund Family Foundation, Stockton Rush Bartol Foundation, Henrietta Tower Wurts Foundation and the Hamilton Family Foundation.
Register HERE