New Works Produced Through Scribe's 14-Week Workshop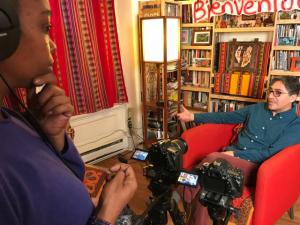 Location(s):
Scribe Video Center
3908 Lancaster Avenue
Philadelphia, PA 19104
The 14-Week Workshop covers all aspects of film and video production and supports participants in the completion of short projects. Many of this year's participants are also members of Scribe's Film Scholars Program. Funded by the Academy of Motion Picture Arts and Sciences, the program consists of a series of short-form documentary video-making training courses designed to support emerging filmmakers in completing new work.  The 14 Week -Workshop and the Film Scholars Program are supported by the National Endowment of the Arts.
Racing through the Gray Space, Dir Kelly Kirby
Twin Tongues: Learning English in America by Iliana Págan-Teitelbaum
Finding Elijah by Yolonda Johnson – Young
Stevie Robot by Phil Asbury
In Search of Lost Time: Alzheimer's and Dementia's Impact in Communities of Color by Renee Chenault Fattah
Brilliant Black Suns by Jamil Gordon
The Age of Aquarius, Five Days in Philadelphia by Gary Smalls