Journeys Near and Far: Shorts on Migration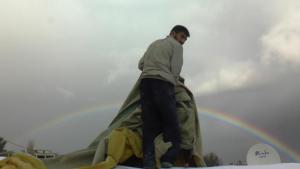 Sunday, April 2 from 2:30 PM - 4:30 PM
Location(s):
Barnes Foundation
2025 Benjamin Franklin Pkwy
Philadelphia, PA 19130
Curated by Maori Karmael Holmes
This group of short documentary films examines movements within and beyond one's home of origin.Whether by choice or force, the impact of migrating and the longing for a sense of place and identity, unites these powerful works.
Darius Clark Monroe and Brian Redondo will be in person to join a discussion with the audience and with other filmmakers via Skype.
A Home on a Rainbow (Lebanon/Syria, 2015, 14 min)* directed by Rami Nihawi, Lina Alabed & Nadim Deaibes
A group of Syrian refugees is forced to evacuate a camp when war breaks out.
Bajo las brasas (Beneath the Embers) (Mexico, 2015, 11 min)
directed by Andrea Fuentes Charles & Verónica Jessamyn López Sainz
A young woman dreams of becoming the first to attend college in her rural community.
Marathon (USA, 2015, 9 min) directed by Theo Rigby
An undocumented man trains to win the New York City Marathon.
Standing at the Scratch Line (USA, 10 min. 2016) directed by Julie Dash
Exploring the spiritual ties between Mother Emmanuel AME in Charleston, SC and Mother Bethel AME in Philadelphia.
Two Cities (USA, 2015, 13 min) directed by Darius Clark Monroe
An elder reflects on being displaced from his new home after Hurricane Katrina.
Why We Rise (USA, 2013, 14 min)* directed by Brian Redondo & Corinne Manabat
Undocumented young people discuss their challenges living in New York City.
*denotes films curated by Nehad Khader as part of a special program at the 2016 BlackStar Film Festival.
There is no RSVP link as its first come first serve (i.e. walk- up only). When you arrive at the Barnes Foundation, go directly to the front desk and tell them you're there for a screening.
http://www.barnesfoundation.org/programs/april-2017/journeys-near-and-far?type=Show+all&month=1491019200
THIS SCREENING IS PRESENTED IN PARTNERSHIP WITH THE BARNES FOUNDATION AS PART OF THEIR FREE FIRST SUNDAY SERIES