Body of Work - Nadine Patterson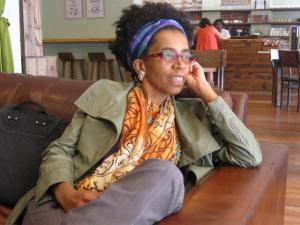 Three consecutive evenings, August 29, 30 and 31st, 2018
Location(s):
Scribe Video Center
3908 Lancaster Avenue
Philadelphia, PA 19104
"For me, the works … have to do with recovering memories before they are erased by the gentrification of the place I call home. Artists document their herstory/history. I document them. We honor our living, our dead and our ancestors. As Ursula says, "We are, we live, we matter". 
Wednesday, August 29, 7:00pm  - Recovering Memories/ Black Herstory & History
3820 (USA, 1989, 6 min) Celebrate 50 years of marriage with Mr. and Mrs. Green, two members of the Great Migration North of the 1920's. Learn how they met, fell in love, and started a family Up South.
Anna Russel Jones: Praisesong for a Pioneering Spirit (USA, 1993, 26 min) Meet Mrs. Anna Russell Jones, a textile designer in the1920's and 30's, a WAAC during World War II, and a nurse in the 1950's- a professional career woman ahead of her times.
Cosmic Trane (Philadelphia, 2003, 14 min) Cosmic Trane is an experimental video that uses music, movement, visual art, and documentary footage to convey some of the issues explored in John Coltrane's music.
Art, Art and More Art: The Contemporary Sam Brown (Philadelphia, 1987, 13 min) From the WPA (Works Progress Administration), to teaching in the Philadelphia public schools, octogenarian Sam Brown is always making art.
Items Designed By and For My Enslaved Ancestors (Philadelphia, 2016, 2 min) This lyrical documentary shows artifacts from the LEST We Forget Black Holocaust Museum of Slavery in Philadelphia, intercut with verses by Phillis Wheatley from 1765.
LoqueshaAshleyFranklinJoseBrown (USA, 2001, 18 min) Produced by Harmony Image Productions. An experimental documentary about children in Philadelphia, with poetry by Ursula Rucker. 
Thursday, August 30, 7:00pm – Global Stories
Todo El Mundo Dance (USA, 2000, 24 min) This short but lively doc produced by Scribe Video Center's annual Documentary Youth History Project explores the rich history of social dance in Philadelphia's African American and Latino communities.
LickFilm (London, 2004, 2 min) an editor grapples with his love/hate relationship with film. Voice over: "If you are not sure which side is the emulsion side, you can wet your finger and touch it. Or you can put it between your lips and lick it".
Shizue (1991, 17 min) Emiko Tonooka, a Nisei American woman (second generation Japanese American born on U.S. soil), traveled to Japan in 1986 to find her unknown half-sister, Shizue. Through storytelling, photography and carefully choreographed video work, a powerful portrait of family emerges.
Moving with the Dreaming (Australia, 1997, 29 min) Explores the cross-cultural collaboration between African Americans and Aboriginal and Islander Australians in the area of modern dance and social activism.
Release (London, 2005, 13 min) This film is about the power of dance to communicate the things that we cannot express in words. Husband and wife dance couple separate when she pursues a career overseas.  He stays behind to raise their daughter.
Friday, August 31, 7:00pm - Macbeth on Film
Tango Macbeth (Philadelphia, 2012, 73 min) It's a play, within a documentary, within a film. A documentary film crew follows the creation of a new dance theater film piece called Tango Macbeth. Occasionally the actors become lost in Shakespeare's intense drama.