Adobe Premiere Pro 2.0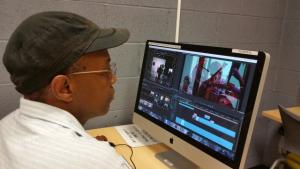 6 Sessions – Mondays, Starts January 22 from 7:00 PM – 9:00 PM
Location(s):
Scribe Video Center
4035 Walnut Street
Philadelphia, PA 19104
Ready to take your editing to the next level and explore some of the powerful features available in Premiere CC?  This workshop reviews and builds on the basic concepts of Premiere Pro. We will examine and learn how to use color correction, audio and multi-camera editing, Photoshop and After Effects integration using Adobe Dynamic Link, motion graphics, titling, and more.  Experience with Adobe Premiere's basic editing concepts is a prerequisite.  The workshop is project-driven, and participants will complete a short project using their newly learned skills.
Ryan Saunders was born and raised on the twin islands of Trinidad & Tobago and migrated to the US after having lived there for 27 years.  He has produced documentary videos and other short form projects, one of which is the documentary video Bacchanal Time that documents the initial history and spread of the Trinidad Carnival to North America. 
Mr. Saunders received his BA in Visual and Performing Arts at the University of Maryland Baltimore County, and his MFA in Film and Media Arts at Temple University.  For the past five years he has been the Technical Director at Philadelphia Public Access Corporation.  Saunders is also an instructor and consultant for Scribe Video Center where he conducts a popular workshop in video editing